Paul Robeson
The Artist as Revolutionary
04.03.2022 till 09.04.2023
Paul Robeson
The Artist as Revolutionary
04.03.2022 till 09.04.2023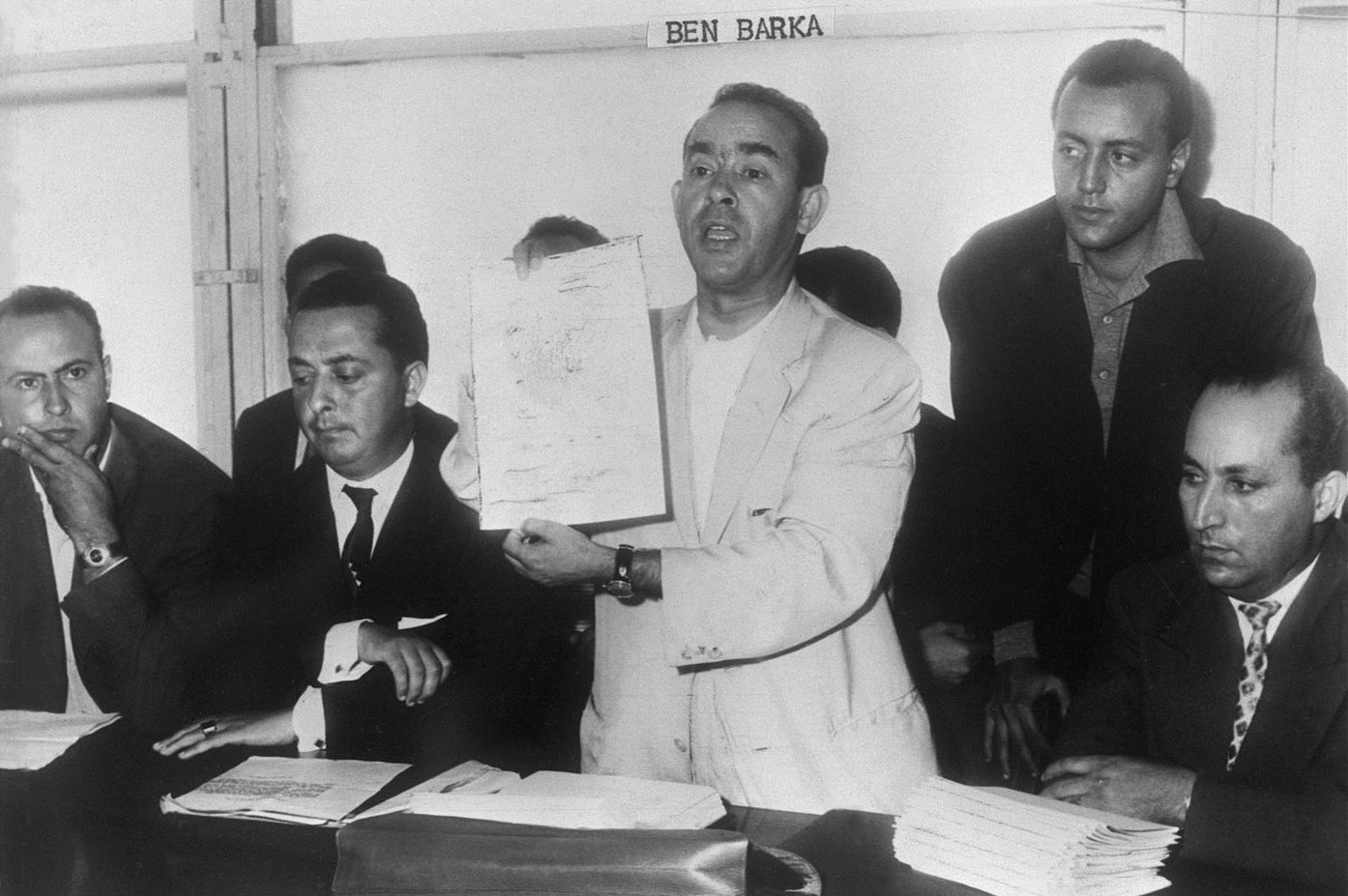 Photo: During a press conference on September 9, 1959, in Casablanca, Mehdi Ben Barka announces the formation of the left-wing National Union of Popular Forces (UNFP). DSK/AFP

Public Program
Paul Robeson #1: Karima Boudou Mzouar
27.05.2022, 20:00 H.
Free entrance

We are pleased to announce the public program accompanying our exhibition dedicated to the life and work of Paul Robeson (1898-1976). We warmly invite you to visit us for the first event featuring Brussels-based art historian and curator Karima Boudou Mzouar.

Boudou Mzouar will speak on Paul Robeson's life and work as a starting point, drawing on her own commitment to the life, archive, and work of Mehdi Ben Barka (1920-1965), a brilliant mathematician, leading intellectual and Pan-Africanist. Boudou Mzouar will explore the question of what the work of an art historian looks like when trying to cross political praxis and theoretical reflection. In the age of extreme neo-liberalization of Pan-African political movements, a re-writing of history with radical elements resounds with urgency. Drawing on historian and Robeson biographer Gerald Horne's work, Boudou Mzouar will highlight how neglected episodes of world history can reveal the 'task' of art historians writing about topics are misrepresented such as the struggle for justice, the struggles against imperialism, colonization and fascism.

Following Boudou Mzouar's presentation there will a conversation with the curator of the exhibition Baruch Gottlieb. The exhibition will be open until 23:00 hrs. with Gottlieb giving guided tours for small groups throughout the evening. We are looking forward to welcoming you.


Biographies

Karima Boudou Mzouar
Karima Boudou Mzouar (1987) is a Scientific Collaborator at the Bern University of the Arts (HKB), an art historian and curator who lives and works in Brussels. Trained in art history (Montpellier, Rennes) and philosophy (Nanterre), she participated in the Curatorial Training Programme at De Appel, Amsterdam, in 2012–2013. In the past eight years, she has organized research projects, exhibitions, conferences, and publications in Europe and Morocco. Her work intersects theoretically and practically with postcolonial theory and the reactualization of archives and decentered histories of modern and contemporary art, considering strategically the politics of vision and visibility in art history. Boudou Mzouar has lectured about the writers Jean Genet and Mohamed Leftah and the artists Glenn Ligon, Danh Vo, Dave McKenzie, and David Hammons. She has written for exhibition catalogs (Mu.ZEE, Ostend, Belgium; Le Cube, Rabat, Morocco) and magazines (Mousse, Ibraaz, rekto:verso, Metropolis M). Her recent scholarship from the Collège des Bernardins in Paris focused on the oeuvre of American painter Beauford Delaney.

Baruch Gottlieb
Baruch Gottlieb is trained as a filmmaker at Concordia University. He is an active member of telekommunisten, arts & economics group and laboratoire deberlinisation arts collectives. He founded the first Korean Sound Art festival SFX Seoul and initiated the perfomative archives series 'McLuminations' (on Marshall McLuhan) and 'Flusser Talks' (on the work of Vilém Flusser), Gottlieb is the author of 'Gratitude for technology' (2009, Atropos) and 'A Political Economy of the Smallest Things' (2016, Atropos).